Argoed Lwyd Residential 2022
The children had a fantastic time on their residential to Argoed Lwyd in the Brecon Beacons. Whilst they were there, they participated in rock climbing, caving and canoeing. Lots of fun was had and the children made everyone very proud with their courage and determination!
World Book Day 2021
This year was a World Book day with a difference! It has been great to see children both in and out of school getting involved by dressing up and sharing their favourite books! It has been great to see the children on the live meets via Google Classroom and for bedtime stories.
In school, we used the green screen to put ourselves on the covers of our favourite characters!
For those who would like to try it themselves at home, we used the Veescope Live app which can be used on any colour background. This is great as you can achieve the same results using a wall or sheet that is one solid colour.
What's My Line Assembly
25 February 2020
What's My Line Assembly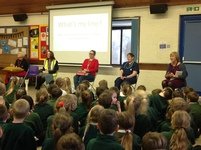 Tuesday 25th February - We had a very exciting assembly this afternoon, 5 role model volunteers from Primary Futures came in and shared their work with the children. The children prepared questions to elicit information from our visitors to try to work out what their job was. We had a good go at guessing their occupations and were nearly right with a few!
We had a Taxonomist, an Interior Designer, a Nurse, an NHS Manager and an MOD Civil Servant who visited us. We are looking forward to working with them more and more as the year goes on.
3…2…1…ignition! Pewsey Primary pupils count down with astronaut George for a space adventure
---
On Saturday 24th November we collected a cheque for over £7000 from Pewsey Co-op. The money was raised through the Co-op's Local Community Fund. Thank you to everyone in Pewsey who helped us raise this fantastic amount. We have used the money to refurbish our playground to make play times and our PE lessons more fun!
To support the Year 3 and 4 topic on the Victorians, the children visited the Steam Museum in Swindon. The children had a fantastic time finding out what life was like during the Victorian era.
WWI Centenary Celebrations
Please visit the School Council page to find out more information about how Pewsey Primary School celebrated the WWI Centenary. Click here.