Year 4 Trip- Natural History Museum
Year 4 Trip- Natural History Museum
23 November 2022 (by Year5)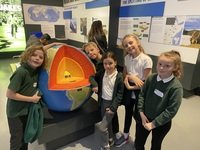 Year 4 had a fantastic time at the Natural History Museum on 22nd November.
We had a great workshop all about Volcanoes and Earthquakes where we showed how much we had learnt and saw models demonstrating types of eruptions and earthquakes. We explored the Earth Zone where we were able to see lots that helped bring our learning alive like Sulphur, Obsidian and models of plates moving as well as a fantastic earthquake simulator! The children made lots of links from our learning in class spotting lots of information and artefacts from Indonesia in particular where there are many volcanoes.
The children also enjoyed seeing Dippy who is now back in the museum as well as exploring the dinosaurs, mammals, creepy crawlies and birds- we even learned lots about sharks from the staff who showed us a tiger shark jaw! Everyone had a great day!